About us
The Robert Koch Institute (RKI) is the government's central scientific institution in the field of biomedicine. It is one of the most important bodies for the safeguarding of public health in Germany.

Its tasks are:
Identification, surveillance and prevention of diseases, especially infectious diseases; pandemic preparedness
Monitoring and analysing long-term public health trends in Germany
Epidemiological and medical analyses and evaluation of highly pathogenic and highly contagious diseases which are of great significance to the general public
Providing a scientific basis for health-related political decision-making
Informing and advising political decision-makers, the scientific sector and the general public
Executive tasks defined by special laws, in particular with regard to protection from infection, legislation on stem cell research, and attacks using biological agents
Federal health reporting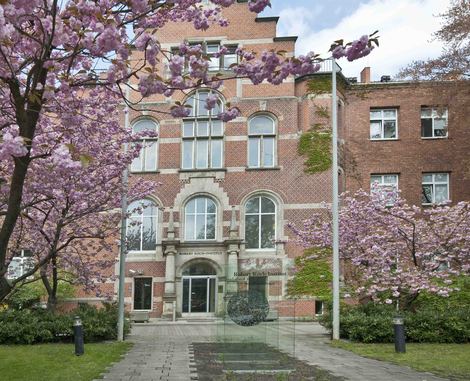 Our mission

The Robert Koch Institute is Germany's public health institute. Our mission is to protect and improve the health of the population. To this end, 1,500 individuals from 90 different occupational fields work and conduct research together at RKI every day.

Our portfolio

We investigate disease and health on all levels: from viruses in human cells to obesity in the population. RKI scientists collect data on non-communicable diseases like diabetes and cancer, on infectious diseases and (new) biological dangers. On this basis, we develop policy recommendations and preventive strategies. Our work rests on two pillars: research that generates data for decision-making, and independent advice for specialists, particularly Germany's public health service and policy-makers. In addition, we help partner countries to better prepare themselves for disease outbreaks and health crises. The Robert Koch Institute therefore contributes to health protection not only in Germany, but across the world.
Our success stems from our highly-motivated and qualified staff, a modern research infrastructure, flexible organisational structures and an efficient administration.

Our values

We produce evidence. Scientific questions evolve – and as they do, the methods through which data on health and disease can be collected and interpreted change too. As well as adopting state-of-the-art approaches, we continually develop new ways of tackling issues in fields like digital epidemiology, artificial intelligence and targeted, group-specific communication. Because sound results and recommendations are dependent on high-quality data, our scientific activities and infrastructure are regularly evaluated both internally and externally.

We are connected. Complex health issues, such as the growing issue of antibiotic resistance, healthy ageing, novel pathogens that can be transmitted from animals to humans, or severe disease outbreaks can only be addressed jointly – across disciplinary, institutional and national boundaries. This starts at our institute itself, where different specialist areas and the administration support and complement each other and pool their resources to develop solutions. RKI also actively collaborates in a broader context with the public health service, various public health stakeholders, veterinary, human and environmental medical specialists, and international institutions.

We share our knowledge. RKI staff publish their research findings in recognised journals, present them at conferences and employ them for health reporting to the federal states. The recommendations issued by RKI and the commissions located at the institute are made freely available online. The general public is also regularly informed about RKI activities. We are committed to promoting global access to knowledge and we share our methods and data with international partners. In every sector of the institute, RKI trains junior researchers: our scientists mentor bachelor's, master's and doctoral dissertations. A number of our staff are themselves actively involved in academic teaching or contribute their knowledge and experience to commissions, learned societies and committees.

We assume responsibility on a global scale. Health crises like the Ebola virus disease outbreak in West Africa can only be tackled in cooperation with the countries affected. We provide expertise and resources to assist and support partner countries and help them to better prepare for crises. In addition, the Robert Koch Institute works closely with the World Health Organisation (WHO) and the European Centre for Disease Prevention and Control (ECDC) as well as coordinating a raft of international research projects. Our institute is open to all people, irrespective of their origin, religious belief and gender identity.

We work autonomously, independently and transparently. We implement legal provisions on issues like data protection, biosafety, the safety of genetic engineering and animal protection. We place great emphasis on observing the rules of good scientific practice and dealing responsibly with research risks. As a higher federal authority within the remit of the Federal Ministry of Health, RKI is not dependent on funding from industry. Conflicts of interest and research projects that are not publicly funded are appropriately declared as such.

The world is changing – we are changing, too. Founded in 1891, the Robert Koch Institute is one of the oldest biomedical research institutes in the world. It is part of the institute's ethos to recognise and embrace new challenges, constantly scrutinise its own approaches and break new ground. Over the decades, this openness has enabled us to become what we are today: the institute for the health of the public.
Contact
Robert Koch Institute
Nordufer 20
13353 Berlin
Germany
Phone: +49 (0) 30 18754 0
Fax: +49 (0) 30 18754 2328